Refugees: Human Flow, a film by Ai Weiwei
Human Flow review – Ai Weiwei's urgent look at the scale of the refugee crisis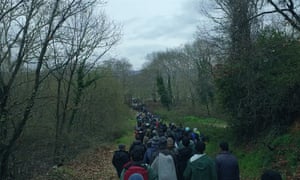 The international co-productions of the mid-20th century often boasted myriad shooting locations in far-flung places. Who would have guessed the Chinese artist Ai Weiwei would pick up where moguls such as Sam Spiegel left off.
Ai's new film, Human Flow, while certainly epic in scope, is not exactly meant as entertainment. This is an urgent, deep soak in the current refugee crisis. There has been no dearth of documentaries about this topic, but this one comes closest to understanding the totality of the issue.
Ghastly facts and mind-numbing numbers continuously flash on the screen as more boats arrive upon the shores. Our first images are of the Greek island of Lesbos, a frequent first perch for many Syrian refugees, where there appears to be a semblance of procedure. There are cups of hot tea and those emergency blankets made of golden foil, which unfortunately don't align with the migrants' fortunes.
Ai (who never directly addresses the camera, but looms over proceedings throughout) follows a band of travellers north through fog and across streams, almost as if this is an adventure film. Then the reality of politics hits. The Macedonian border is closed, coinciding with a downpour of rain, a dwindling of supplies and an onset of disinterest from the international community. Once these people are out of the immediate danger of drowning, they are on their own.
Ai, though, stays with these people past the headlines. As the immediate crisis ebbs, new ones begin. They may seem secondary, but from the ground up, problems such as what to do with bored, scared children all day are of crucial importance. As the film flies away (literally, given the pervasive use of drone photography) from the people stuck in the Idomeni border camp, Human Flow expands to consider the plight of all refugees all over the world.
Some may consider this a mistake – and I confess I had some misgivings as I was first watching – it becomes clear that Ai is more interested in presenting a tone poem than a traditional narrative. While the film does regularly staple headlines and statistics to the screen, there are also numerous quotes from poets and scripture from various religions. Transitional shots between Mosul, Berlin, Calais, Gaza, eastern Turkey, Bangladesh, Jordan, Hungary, the US-Mexico border and elsewhere are gorgeously photographed, finding if not beauty in each setting than at least a point of view other than abject misery.
While the film makes a direct plea to the EU to stay true to its charter on refugees (and gets very specific about deals with Turkey), Ai's on-screen presence, talking and taking photographs, perhaps for one of his site-specific installation pieces, is more of a gentle face and a hug than a jeremiad. As one who spent his childhood as a displaced person during China's Cultural Revolution, it's perhaps no surprise that his film has so many empathetic moments. (It's only an instant, but everyone smiling at photographs of a cat wearing a sweater back home in Syria is incredibly emotional.)
Policy-minded viewers may bristle at Ai's approach. "All refugees in crisis should be treated equally, but perhaps all crises that create refuges should not," is an argument that is easier to make when viewing from 30,000 feet. Everyone deserves a home, and when something happens to deny someone that right, it is our obligation to help them. Ai Weiwei's camera shows us the enormity of the problem – now it's our turn to do something.
Human Flow was showing at the Venice film festival and will be released in UK cinemas in December