Puerto Rico & Trump: This is Genocide
After the devastation of Hurricane Maria, with too little help from the US federal government, thousands of Puerto Ricans are at risk of dying from lack of clean water, food, medicine and electricity while Trump plays golf and blames them for their situation.
THIS IS GENOCIDE.
Donald Trump lashed out at the mayor of Puerto Rico's capital city on Saturday as the row over his administration's response to a hurricane and humanitarian crisis escalated.
Ahead of his visit to the devastated US territory next week, the president used Twitter to say of Carmen Yulín Cruz: "Such poor leadership ability by the Mayor of San Juan and others in Puerto Rico, who are not able to get their workers to help".
He went on: "They want everything to be done for them when it should be a community effort. 10,000 Federal workers now on Island doing a fantastic job."
Trump received a measure of praise for his handling of the recent hurricanes that struck Texas and Florida but has come under fire for a flat-footed response in Puerto Rico, where he sought to defend slow relief efforts by saying: "This is an island surrounded by water, big water, ocean water." In the past 10 days he has been distracted by a long weekend at his golf club in New Jersey, an election contest in Alabama, a major tax reform plan and a racially charged dispute with sportsmen who kneel during the national anthem.
With terrible timing, there have also been revelations about Trump's cabinet members taking expensive charter flights at taxpayers' expense, culminating in the resignation of the health secretary, Tom Price. Critics have warned that Maria threatens to become "Trump's Katrina" – a reference to the 2005 hurricane that smashed New Orleans and became a defining failure of George W Bush's presidency.
Maria, the most powerful storm to strike Puerto Rico in nearly 90 years, has killed at least 16 people on the island, according to the official death toll. The situation remains dire as residents face shortages of food, water and fuel. The electric grid was badly damaged by Hurricanes Irma and Maria, leaving many without power and reliant on gas-powered generators. The hurricanes crippled the island's already weakened waste and water treatment plants while fallen trees and strewn debris block roads and cellphone service remains limited for the 3.4 million population.
Trump hit out at Cruz after she decried his relief efforts on Friday, saying if the federal government did not solve the logistics "what we we are going to see is something close to a genocide".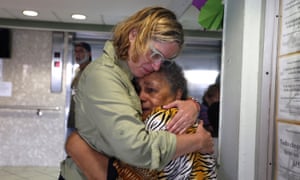 "We are dying here," Cruz said at a press conference, speaking with tears in her eyes. "I cannot fathom the thought that the greatest nation in the world cannot figure out the logistics for a small island of 100 miles by 35 miles. So, mayday, we are in trouble."
Cruz had appealed directly to the president, saying: "I am asking the president of the United States to make sure somebody is in charge that is up to the task of saving lives … I will do what I never thought I was going to do. I am begging, begging anyone that can hear us, to save us from dying. If anybody out there is listening to us, we are dying, and you are killing us with the inefficiency."
Trump, who has appointed a three-star general to coordinate the response, is scheduled to visit Puerto Rico on Tuesday and said on Saturday he would visit with the first lady and hopefully be able to stop at the US Virgin Islands, which have also been battered.
The president also criticised "Fake News Networks" for negative coverage and said Cruz had been wound up by his political opponents to attack him. He tweeted: "The Mayor of San Juan, who was very complimentary only a few days ago, has now been told by the Democrats that you must be nasty to Trump."
Cruz was then asked on the MSNBC channel whether anyone had told her to go out and name Trump. She laughed scornfully and said: "Actually, I was asking for help. I wasn't saying anything nasty about the president … This is a time when everyone shows their true colors. I have no time for distractions … This isn't about me; this isn't about anyone; this is about lives that are being lost if things do not get done properly real quickly."
She added: "I am not going to be distracted by small comments, by politics, by petty issues. This is one goal and it is to save lives. That's all that matters."
Trump has a long history of "punching back" in business and politics. During his election campaign, he went on the offensive against the Muslim family of a dead US soldier and a former beauty queen who supported his rival Hillary Clinton. After a deadly terrorist attack in London in June, he twisted the words of London's mayor, Sadiq Khan, to slight him.
Such broadsides appear to strike a chord with his rightwing populist base. Mike Cernovich, a notorious blogger, author and cheerleader for the president, tweeted about Cruz with no evidence: "She is garbage, she is a murderer, she failed her people and her duties and belongs in prison!"
Others expressed disgust at Trump's inaction and lack of sensitivity towards the mayor. Lin-Manuel Miranda, creator of the musical Hamilton and of Puerto Rican descent, tweeted: "She has been working 24/7./ You have been GOLFING./ You're going straight to hell./ Fastest golf cart you ever took."