Wirathu: 'I Am Defending My Loved One'
Buddhist Monk Ashin Wirathu speaks of protecting his flock – "his beloved" – against what he perceives as danger, the Rohingya Muslims of northern Burma.
"I am defending my loved one," he says, "like you would defend your loved one. I am only warning people about Muslims. Consider it like if you had a dog, that would bark at strangers coming to your house – it is to warn you. I am like that dog. I bark."
Recently, some activists in Berkeley, CA, have engaged in Antifa and Black Bloc tactics to 'defend' people who are the targets and victims of violent white supremacy, and defend allies that oppose white supremacy in the US. Their justification for their defensive tactics, which includes the possibility of using physical force to countervene when violent racist groups engage in public assembly, is this: 'we are defending vulnerable people who could not resist white supremacy unless we provided this protection.'
Q. Is violence against an aggressor justified if it is 'self-defense'? What if violent force is used to prevent potential aggression? 
Q. More importantly, is it right for North American Buddhists, native and converts, to take a stand against Buddhist racism and violence in Southeast Asia?
---
'It only takes one terrorist': the Buddhist monk who reviles Myanmar's Muslims
Critics of Ashin Wirathu and his denim-clad disciples say the monk incites racial violence against Rohingya refugees. He claims he is merely protecting his people
Marella Oppenheim, originally published at Guardian UK
Last modified on Wednesday 31 May 2017 05.53 EDT
"Aung San Suu Kyii would like to help the Bengali, but I block her," says Ashin Wirathu with some pride.
Branded the "Face of Buddhist Terror" by Time magazine, Wirathu has his own compound within the Masoeyein monastery in Mandalay. Before being offered a comfortable chair, visitors are greeted by a wall of bloody and gruesome photographs.
The pictures show machete-inflicted head wounds and severed limbs, disfigured faces and slashed bodies; Wirathu claims, without the slightest evidence, that the images are of Buddhists who were attacked by Muslims.
Next to the display, under which a monk is methodically sweeping the floor, stands a long table. The newspapers spread across it confirm that, for Wirathu's followers, daily reading is a matter not just of spiritual texts but also of politics.
An orange-robed assistant adjusts a film camera on to a tripod; another brandishes a Nikon fitted with a large zoom lens. This interview will be carefully recorded by the monks in every way.
Wirathu is a man of unassuming features. His baby face belies the power he holds over nationalist activists in Myanmar as the spiritual leader of the 969 movement and head of Ma Ba Tha, the Organisation for the Protection of Race and Religion.
Wirathu perches on one of two teak armchairs; the wall to his left is covered with poster-sized photographs of him. He stands accused of inciting violence against the minority Muslim population in Myanmar, where racial and religious faultlines are increasingly exposed. In 2012, fuelled by his speeches, riots erupted in Meiktila, a city in central Myanmar, leaving a mosque burned to the ground and over a hundred dead.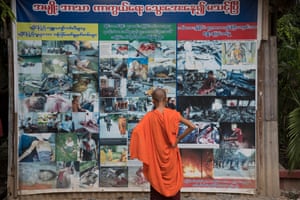 In a soft and measured voice, Wirathu claims his speeches are neither "hate" nor racist, but serve merely as a warning to protect his people. What people make of those warnings is not his doing, he says calmly.
"I am defending my loved one," he says, "like you would defend your loved one. I am only warning people about Muslims. Consider it like if you had a dog, that would bark at strangers coming to your house – it is to warn you. I am like that dog. I bark."
Wirathu speaks of protecting his flock – "his beloved" – against what he perceives as danger. His denial of responsibility for the violence that has followed his sermons contrasts with eyewitness accounts of knife-wielding monks, denim jeans visible under their robes, leaving Wirathu's monastery during the Mandalay riots of 2013.
Islam represents only 5% of Myanmar's population of 54 million, but nationalists like Wirathu are pushing the idea that the faith puts Buddhism, and the very essence of Myanmar, in jeopardy. He claims the 1 million Rohingya Muslims living in precarious conditions in his country – described by human rights agencies as the most persecuted people on Earth – "don't exist".
"It only takes one terrorist to be amongst them," he says. "Look at what has happened in the west. I do not want that to happen in my country. All I am doing is warning people to beware."
Wirathu adds that if Donald Trump or Nigel Farage need some advice he will happily share his ideas. These include infiltrating the Facebook pages of Muslim groups, getting all Islamic schools to record their lessons, and government surveillance of internet activity, including emails. Wirathu claims he has his own army of individuals screening the net in Myanmar.
On the well-documented situation of the Rohingya in Rakhine state – where people have been left without access to medicines, aid, and basic human necessities such as clean water, sanitation and food – Wirathu is dismissive. The Rohingya have been mostly couped up in camps since the 2012 violence, and the silence of Myanmar's leader Aung San Suu Kyi and her National League for Democracy on their plight has attracted growing criticism.
Wirathu rejects the stateless Rohingya as illegal immigrants, a view echoed by the government. He will only discuss them if the description "Bangladeshis" is used, and even then Wirashu says the situation is not as it is portrayed.
"If it is true what [outsiders say], then I would offer help but I have visited the camps on many occasions. The aid agencies are refused access because they are using the refugees to fill their own pockets. Bangladeshis are posing for the media. They are not starving. They have so much food that they are selling it on in their shops – stealing even from their own."
On the allegations that women have been abused and raped by the military, he laughed: "Impossible. Their bodies are too disgusting."
There have been calls outside Myanmar for Aung San Suu Kyi to return her Nobel peace prize for her failure to tackle the situation with the refugees, which has broken her own promises on human rights.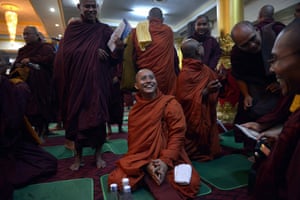 Wirathu points to four soldiers marching through the compound, joking that they are there to arrest him, again. In 2003, he was sentenced to 25 years in prison for his anti-islamic sermons, but was released nine years later. In the event, the soldiers are there simply to make donations to his cause.
Wirathu is confident that the power of Ma Ba Tha is far from dwindling; that the organisation represents Myanmar Buddhism and its influence over the government is entrenched.
As a passing mosquito wins his empathy, he switches from his anti-Muslim rhetoric to explain: "I can teach you how to be a better Buddhist and not kill the mosquito. First, you must have compassion for the mosquito, imagine it to need you as it has no family to feed it. Second, you must try to put yourself in its place."