One community garden at a time
How New Yorkers are fighting for food justice
Tanya Fields' Libertad Urban Farm joins a city-wide movement to redistribute resources to poor communities that are systemically deprived of healthy food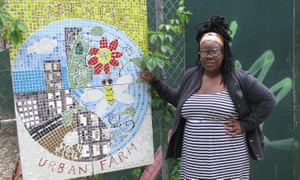 For the past three summers, Tanya Fields produced a veritable cornucopia of fruits and vegetables at the Libertad Urban Farm in the South Bronx. But then disaster struck: "We got burglarized three times by a crackhead. He took everything. The pears, the grill – anything he thought had value. He knocked down the shed, destroyed the tomato vines and stole the eggplant."
These difficulties are surely a setback, but they have not dulled Fields' commitment to the issues of food justice and food equality, an emerging aim of community-focused activism across the US sometimes described as "communities exercising their right to grow, sell, and eat healthy food".
The terminology of food justice may help to draw attention to the striking parallels between poor nutrition, discrimination and reduced life expectancy. According to a 2011 study by the Food Research and Action Center, low-income families are 30% more likely to be overweight or obese due to lack of access to quality fruits and vegetables.
Fields, who has worked as a community activist in the Bronx for more than a decade since being squeezed out of a rapidly gentrifying Harlem, says the concept isn't new, just the term. "We didn't call it food justice before – we called it survival. We attached some fancy vernacular, but really it's just the same shit we've been talking about for years."
The Bronx, she says, isn't so much a food desert as it is a food swamp. Hunts Point, the nation's largest food distribution center, is a few minutes' walk away from her kitchen garden, yet the neighborhood stores betray the signs of a low-income neighborhood.
"There's the cake spot, the McDonald's spot, the Burger King spot, the cuchifritosspot. But you go into the one grocery store and the food there will cost you disproportionately more as a poor person, and that's a function of a globalized and commodified food system we want to change."
Fields, a mother of six in her mid-thirties, founded the garden project under the umbrella organization, the BLK ProjeK, a group she founded eight years ago as a response to what she calls "structurally reinforced cycles of poverty, and harsh inequities … that result in far too many women being unable to rise out of poverty and sustain their families."
Fields, like her counterparts in Brooklyn, are looking to create micro-hubs. Fields calls it "a mash-up of social entrepreneurship and philanthropy". The Bronx project might not be strictly self-sustaining, but neither is agriculture itself, which relies on vast government subsidies for a system of food production "that has only made us sicker".
Fields' group is just one of dozens springing up, among them the National Black Food & Justice Alliance, Rooted in Community, Bed-Stuy Campaign Against Hunger, as well as other organising groups and publications. In New York, GreenThumb, a division of NYC Parks Department and the largest community gardening program in the nation, estimates that 87,000lbs of food is produced in the 553 community gardens it oversees.
As part of New York mayor Bill de Blasio's Building Healthy Communities initiative, the city recently upped the number of GreenThumb gardens in underserved neighborhoods with limited access to healthy food. The new grants include gardens in East Harlem and Bedford-Stuyvesant and the H.E.A.L.T.H for Youths garden on police department property.
But even as community food production programs gain in number, the overall picture is darkening. The Trump administration recently threatened cuts to a program aimed at improving nutrition among low-income women and children and to roll back the healthy school lunch program championed by Michelle Obama. Earlier this month, the former first lady responded forcefully to the new administration's effort
"Think about why someone is OK with your kids eating crap," Obama offered bluntly.
Fields says the president has created more noise around the subject of food justice but also more fear. "This wasn't as partisan an issue, yet he's come in and started talking about ways you can continue to starve poor kids."
According to community organizer Beatriz Beckford of the Brooklyn Food Coalition, the disparity in access is often down to food producers assuming lower income people wouldn't buy fresh food if it were available their communities.
At the same time, community gardens are often harbingers of gentrification. They are created to assist the very disadvantage groups that end up being pushed out of those areas.
"It's a very political space rooted in a narrative that goes beyond the issues of food," Beckford observes. Her work in this sphere was once focused on appealing to local businesses, elected officials and school boards to change the way systems of distribution worked. But over the years she began to see the issues differently.
"The food system is working the way its supposed to work. It was largely build on the exploitation. We need to think about food justice in terms of building local and national systems that deconstruct the old system and build a new, less elitist and exploitative one."
For Tanya Fields' Libertad Urban Farm, the current focus is to replant and secure the garden so that last year's damage is not repeated. She is balancing reaching out to New York Women's Foundation and Ford Foundation about grants and assistance with an underlying belief that community projects should be lead by the community.
Fields surveys her garden. It's going to take renewed time and effort to get it back into shape. "Food injustice is a symptom of a larger disease which happens to be economic exclusion. It's about how we build our communities without ready social, educational or financial capital." A delivery of soil, expected soon, will be a good place to start.