BLM and Native American Latino Muslim LGBT and Gender Liberation
Trump's election means more police brutality towards black people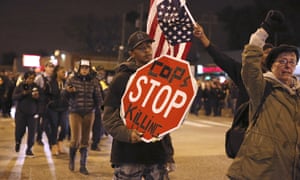 Donald Trump has won the presidency. But did he win the nation's heart?
We must believe that he did. And, for now, it appears that his form of white nationalism has won too. That is terrifying but also liberating.
Black people have been calling for an end to terror in our communities. Trump was endorsed by the Fraternal Order of Police (FOP), one of the largest police unions in the country, with a history of defending violence and racism. It's the FOP that has largely been unwilling to reprimand officers who've killed black people. Under Trump, black lives will become even more vulnerable to state violence.
Other voices joining us in calling for freedom include the Native American community, Latinos, Muslims, the LGBT community and white women who challenge misogyny.
White people who voted for Trump decided to invest in a president who underwrites white supremacy in the guise of populism.
The horrifying murders of unarmed black people, the xenophobic atmosphere immigrant communities live in, and the continuing violence Native Americans have endured all contrast harshly with white people who organised their communities in order to promote racism, xenophobia, and sexism. They voted for a more dangerous United States.
My first reaction to Trump being elected was a visceral one. I cried for black people in general, but more particularly for those of us at the margins who have been struggling and who have never received enough support. Those who have never had a social safety net. Those whose existence strikes fear into the hearts of working-class whites, who picked a narcissistic billionaire to fight their battles.
What tools do we need to shift the balance of power in our country back towards justice? How can we build networks and solidarities?
One way is to listen and feel our fear, sadness and righteous anger. A racist and misogynist should not be a president in 21st-century America. It's time to start building real political power. Let's call in those who may have sat this election out because corporatism and racism are huge turnoffs. I know there are good people out there. Let the sleeping giant awake.
Over the last eight years, since Barack Obama was elected, the right has developed new ways to repackage racism and authoritarianism. The Tea Party set the tone for what we are now seeing in Trump. At first this agenda seemed so ludicrous we perhaps did not see its viability for white people scared of globalisation.
We must ensure our children can live in a country that values all human life. Black Lives Matter is about the sanctity of human life when scared and fearful people forget that life is sacred.
Trump's 100-day plan, including the building of a massive wall on the border with Mexico, is that of a man using an outmoded weapon of isolationism that will not revive our economies. He claims to want to restore law and order within the US, but the result will be more police brutality towards black people and migrants. His purported support of white voters will result in more death and misery as he tries to dismantle the Affordable Care Act, hurting white and black people alike.
For black and brown people, our work has got harder yet clearer. What kind of US do we want to exist 100 years from now? We must confront those answers now.
There have been immediate protests in the wake of this Trump presidency. Thousands of people in the US are marching and yelling "Not my president!" This is hopeful. Black Lives Matter organisers and activists will not go quietly over these next four years. The Trump administration will hear us. It will see us.
Support indigenous struggles. Support black liberation struggles. Support LGBT organising. Support gender rights for women and gender nonconformists.
Intersectional thinking is not easy, but it is powerful. Perhaps the Democratic partywill do some soul-searching and realise how badly they have failed us.
Let's all get ready to forge the new skills we need to make America a place that values the dignity of all.