Philippines President Rodrigo Duterte appeared to liken himself to Nazi leader Adolf Hitler on Friday and said he would "be happy" to exterminate 3 million drug users and peddlers in the country.
Although the administration of U.S. President Barack Obama played down the remark, Duterte's comments triggered shock and anger among Jewish groups in the United States, which could create pressure on the U.S. government to take a tougher line with the Philippines leader.
U.S. Defense Secretary Ash Carter told a news conference following a meeting Southeast Asian defense chiefs in Hawaii that he personally found Duterte's comments "deeply troubling", though the matter wasn't discussed at the meeting.
State Department spokesman Mark Toner had earlier described Duterte's remarks, made in a rambling speech in Davao City, as "a significant departure" from America's partnership with the Philippines "and we find them troubling."
Duterte told reporters that he had been "portrayed to be a cousin of Hitler" by critics.
Noting that Hitler had murdered millions of Jews, Duterte said, "There are 3 million drug addicts (in the Philippines). I'd be happy to slaughter them.
"If Germany had Hitler, the Philippines would have …," he said, pausing and pointing to himself.
"You know my victims. I would like (them) to be all criminals to finish the problem of my country and save the next generation from perdition."
U.N. special adviser on the prevention of genocide, Adama Dieng, expressed alarm and urged the Philippines leader to exercise restraint in his use of language, a U.N. statement said.
Dieng also called on Duterte to support an investigation into the reported rise in killings resulting from his anti-drug campaign, the statement said.
In August, Duterte threatened to withdraw the Philippines from the United Nations after it called for an end to the killings.
In Washington, a State Department spokeswoman, Anna Richey-Allen, had repeated concerns about reports of extrajudicial killings but offered no response to Duterte's comment referring to Hitler.
A White House official on Friday stuck to a strategy of stressing Washington's long-standing ties with Manila, saying, "We continue to focus on our broad relationship with the Philippines and will work together in the many areas of mutual interest."
How relations between the U.S. and the Philippines evolve will depend more on what Duterte does than on what he says, administration officials have said.
U.S. officials had said they would use the defense chiefs meeting in Hawaii to clarify comments by Duterte that throw into doubt his commitment to military ties with the United States, including joint exercises and patrols.
While expressing his own unease with Duterte's comments, Carter described Washington's partnership with Manila as "an alliance of independent and strong nations."
"And like all alliances it depends on the continuation of a sense of shared interests. So far in US-Philippine history we have had that. We would look forward to continuing that but that's something that we continue to discuss with the Philippine government," he said.
'TONE-DEAFNESS'
Since Duterte took office on June 30, more than 3,100 people have been killed since then, mostly alleged drug users and dealers, in police operations and vigilante killings.
Duterte, who was elected in May on the back of a vow to end drugs and corruption in the country of 100 million people, has insulted Obama and in a number of remarks he has undermined the relationship between Manila and Washington.
On Friday, reacting to critical comments on his war on drugs by U.S. Senators Patrick Leahy and Benjamin Cardin, Duterte said: "Do not pretend to be the moral conscience of the world. Do not be the policeman because you do not have the eligibility to do that in my country."
Jewish groups quickly condemned Duterte's Hitler comments.
Rabbi Abraham Cooper, head of the Simon Wiesenthal Center's Digital Terrorism and Hate project, called them "outrageous".
"Duterte owes the victims (of the Holocaust) an apology for his disgusting rhetoric," Cooper said.
The Anti-Defamation League, an international Jewish group based in the United States, said Duterte's comments were "shocking for their tone-deafness".
"The comparison of drug users and dealers to Holocaust victims is inappropriate and deeply offensive," said Todd Gutnick, the group's director of communications. "It is baffling why any leader would want to model himself after such a monster."
Duterte has said there will be no annual war games between the Philippines and the United States until the end of his six-year term, and his hostility may make Washington's strategy of rebalancing its military focus toward Asia in the face of an increasingly assertive China more difficult to achieve.
Murray Hiebert, a Southeast Asia expert at the Center for Strategic and International Studies think tank in Washington, said Obama was "taking the long view" in dealing with Duterte. Obama leaves office in January.
Malcolm Cook, a senior fellow at Singapore's ISEAS Yusof Ishak Institute, said the U.S-Philippines alliance was not necessarily at risk, but Washington could seek to focus on ties elsewhere in the region.
"We are all in some sense becoming, by necessity, desensitized to Duterte's language," he said.
"Diplomatically, the U.S. would say they'll continue to work with him and the alliance is strong. But it's whether they'll continue to strengthen that alliance or not."
(Additional reporting by Brendan O'Brien in Milwaukee, Yeganeh Torbati in Honolulu, Marius Zaharia in Singapore, Michelle Nichols at the United Nations, Jeff Mason in Jerusalem, and David Brunnstrom and Matt Spetalnick in Washington; Editing by Raju Gopalakrishnan, Toni Reinhold, Grant McCool, Lisa Shumaker and Simon Cameron-Moore)
Guardian UK: Philippines president Rodrigo Duterte urges people to kill drug addicts
Duterte, 71, won power in a landslide after a campaign dominated by threats to kill tens of thousands in a war on crime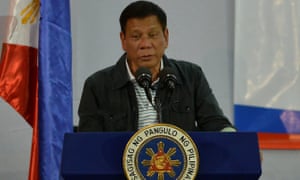 Authoritarian firebrand Rodrigo Duterte was sworn in as the Philippines' president on Thursday, extending an olive branch to the country's elites in his official speech, only to later vow to wipe out drug traffickers and urge the population to kill addicts.
Duterte, 71, won last month's election in a landslide after a campaign dominated by threats to kill tens of thousands of criminals in a relentless war on crime, and tirades against the nation's elite that cast him as an incendiary, anti-establishment hero.
Following a measured speech after taking his oath before a small audience inside the presidential palace, the outspoken leader paid an evening visit to a Manila slum and unleashed profanity-laden threats against drug traffickers in front of a crowd of about 500 people
"These sons of whores are destroying our children. I warn you, don't go into that, even if you're a policeman, because I will really kill you," the head of state told the audience.
"If you know of any addicts, go ahead and kill them yourself as getting their parents to do it would be too painful."
Duterte has previously alleged some police officers were engaged in drug trafficking.
Repeating a favourite campaign refrain, the new president also said it would make good business sense to set up funeral parlours.
"I assure you you won't go bankrupt. If your business slows I will tell the police, 'Do it faster to help the people earn money'."
In his speech earlier at the Malacanang presidential palace, as he took over from Benigno Aquino, Duterte had given notice there would be dark days during his six years in office.
"The ride will be rough but come join me just the same," Duterte said in his remarks, which opened with familiar themes about the need to instil discipline in a graft-infested society.
"The problems that bedevil our country today which need to be addressed with urgency are corruption, both in the high and low echelons in government, criminality in the streets and the rampant sale of illegal drugs in all strata of Philippine society and the breakdown of law and order."
Duterte, a lawyer who earned a reputation as an authoritarian figure as mayor of the southern city of Davao over most of the past two decades, said these problems were symptoms of eroding Filipino faith in their leaders.
He had previously outlined a vision for his anti-crime program that included reintroducing the death penalty, with hanging his preferred method of execution.
He said he would issue shoot-to-kill orders to the security services and offer them bounties for the bodies of drug dealers. He also urged ordinary Filipinos to kill suspected criminals.
During the campaign, Duterte said 100,000 people would die in his crackdown, with so many dead bodies dumped in Manila Bay that fish there would grow fat from feeding on them.
He has been accused of links to vigilante death squads in Davao, which rights groups say have killed more than 1,000 people.
Such groups are concerned that extrajudicial killings could spread across the Philippines under him, with a police crackdown following his election already leaving dozens of people dead.
During the election campaign, Duterte picked fights with the envoys of key allies the US and Australia after they criticised his joke about wanting to rape a "beautiful" Australian missionary who was sexually assaulted and killed in a Davao prison riot.
After his election win, Duterte also launched a seemingly unprovoked attack against the United Nations.
"Fuck you UN, you can't even solve the Middle East carnage … couldn't even lift a finger in Africa [with the] butchering [of] the black people. Shut up all of you," he said.
On Thursday, Duterte offered a muted message of friendship to the international community.
"On the international front and community of nations, let me reiterate that the Republic of the Philippines will honour treaties and international obligations," he said.
Agence France-Presse contributed to this report